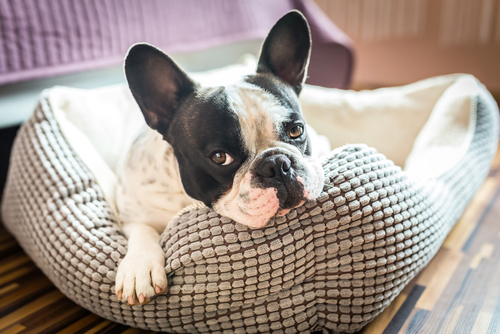 If you're going on vacation and can't bring Fluffy or heading out of town on a work trip not suited for Bella, don't worry! At our boarding facility, your pet will be treated like family, complete with the top-quality care and snuggles you give them every day.
Our dog and cat boarders stay in their own private sections away from the noise and commotion of day-to-day business in the hospital. Each boarder, or household of boarders if preferred, receives their own stylish condo, complete with all of the blankets, pillows, and toys a pet could ask for! We're fully equipped to feed, medicate, and otherwise care for all pets, including seniors and those with special care needs.
While we're happy to take care of the basics like bedding, bowls, food and treats, we welcome owners to bring pets' personal items to make their stay a little easier. Blankets, clothing items, and toys that smell like home can help ease your pet into their new environment and reduce stress.
For pets with specific diets and medications, we ask that you bring those items with you during their drop-off. Our staff will collect a detailed schedule and follow it strictly throughout their stay to avoid disrupting their daily routine.
Our patient care team looks after all of our boarders, and knows many of our regular boarders' routines by heart! They continually monitor our boarding areas throughout the day and relay any concerns to a veterinarian who can examine and treat your pet if necessary. To keep all of our patients as healthy as possible, we require each boarder to be up to date on their vaccinations and parasite prevention, both of which we're happy to do upon your pet's arrival!
To schedule your pet's boarding stay at The Animal Clinic, fill out our boarding form or give us a call today!